NBN internet rollout to cover more residents but many still forced onto private providers
The federal government has announced hundreds of millions of dollars to improve regional internet speeds and allow more customers to access the National Broadband Network's fixed wireless service.
Key points:
Some Central Victorians say they've been struggling to connect to the internet for years
A Riddells Creek resident with trouble connecting says half of her street connected to FTTN doesn't have issues
A Bendigo resident has complained they weren't given the choice to connect to the NBN
But the announcement's been met with skepticism from some in the bush, who have spent years struggling with unreliable internet.
Riddells Creek resident Kristine Rawlinson has spent thousands of dollars on her internet after waiting more than two years for the NBN to get connected to her property, which she was told would be done in 2020.
"I just couldn't wait any longer, I had to invest the money in Starlink so that I could work from home," Ms Rawlinson said.
She is not alone. Other regional Australians have spent money on Elon Musk's Starlink, after being dissatisfied with the NBN's Sky Muster service. 
She said when it works it is fantastic, but it drops out three times a day.
"I think I've spent about $2,000 getting Starlink set up because you have to be able to have clear access to the sky for it," Ms Rawlinson said.
"If I don't have good internet, I can't work. If I can't work, I don't have the money to pay for the internet."
"So, I'm in a bit of a bind."
Down the road her neighbours, who have been connected to the NBN for years, do not have any issues with their internet.
"Not even 500 metres down the street our neighbours have great NBN," she said.
NBN tower to connect hundreds of residents
The federal government and NBN Co promised $750 million to upgrade regional internet services.
The money will let more customers access fixed wireless services and faster internet speeds.
It is anticipated this will free up capacity on the NBN Sky Muster satellite service.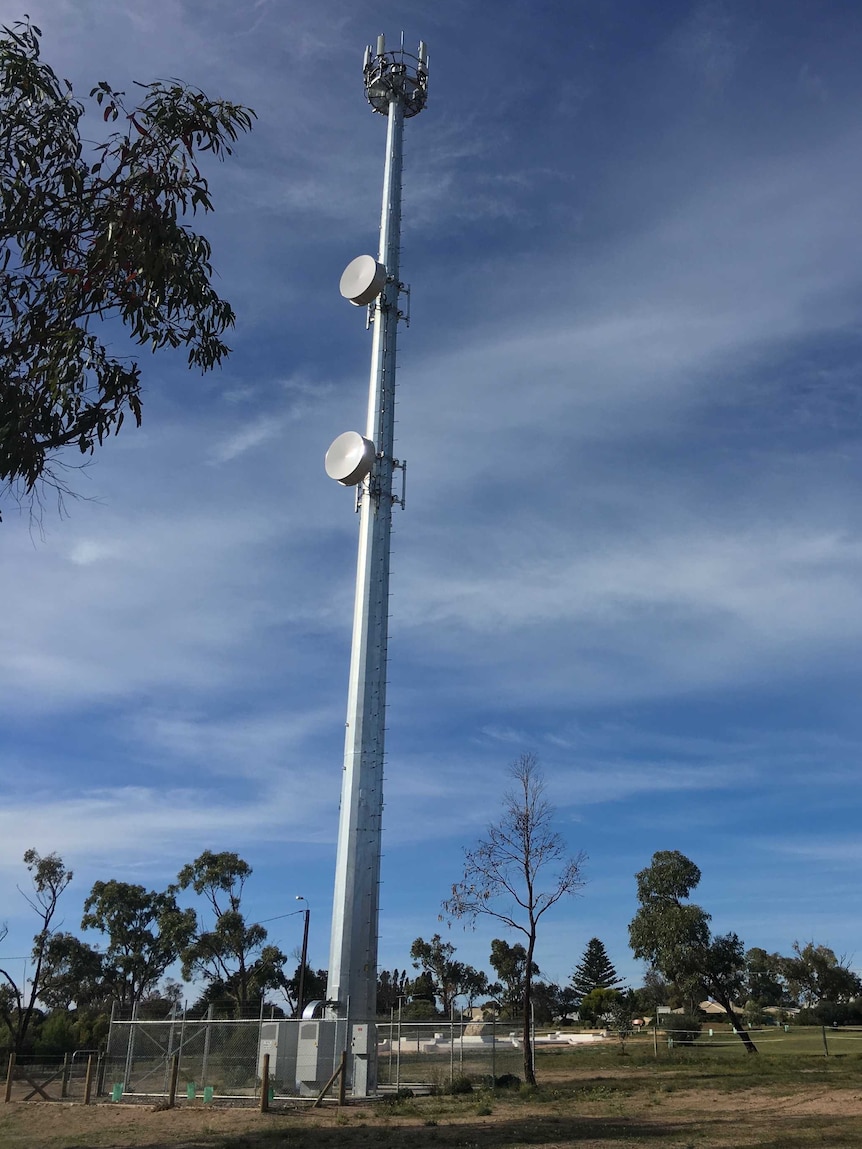 Some of Ms Rawlinson's street in Riddells Creek is serviced with NBN's fibre to the node (FTTN), and some by fixed wireless technologies.
Head of NBN Local Victoria, Emily Peel, said the NBN tower near Ms Rawlinson's street will soon be upgraded, four years after her neighbours were connected. 
"The FTTN network was completed in March 2018. Howeve, acquisition challenges meant we were unable to secure a suitable site for the Riddells Creek fixed wireless tower until December 2021," Ms Peel said.
"We are planning to begin construction of the Riddells Creek fixed wireless tower in April, with completion expected in June."
She said the new Riddells Creek tower will provide connectivity to 440 premises, including those on Ms Rawlinson's road not serviced by the FTTN network.
New estates not connected to NBN
Bendigo resident Mike Butler told ABC Central Victoria Breakfast when his parents built a new house six years ago they were restricted in which companies they could go with to connect their internet.
"They've got optic fibre to the house, but we couldn't choose any of the big players — Optus, Telstra," Mr Butler said.
His parents Don and Julie thought they were connected with the NBN, but they were not.
They were connected to fibre to the premises (FTTP) technology, installed by privately owned provider Opticomm.
Mr Butler said developers need to properly inform residents about what they were being connected to.
His parents were not able to connect with the internet company they wanted as they were not connected to the NBN.
"I think it's completely unfair," Mr Butler said.
He said it had caused them headaches for five years.
"Continued outages, no response to service calls, no response to emails, customer service just basically doesn't exist," Mr Butler said.
"I've got two parents that are approaching their golden years and rely on the internet to communicate with me and my family."
Guardian journalist Josh Taylor has been writing about NBN issues for years.
He said this is not uncommon. 
"What often happens with new developments is that rather than wait for the NBN to come and service those areas a lot of developers will recruit a different fibre company to come and build it for them," he said.
"NBN Co essentially declares these new development areas as adequately served so they don't want to go in there and install their own fibre, effectively doubling up."
What to do if you're having internet issues
Dr Wayne Hawkins, director of inclusion at the Australian Communications Consumer Action Network, said if you were having issues with your internet you should first contact your internet provider to see if there was an issue.
"If there's no resolution with that then the next step is to contact the Telecommunications Industry Ombudsman," he said.
NBN spokesperson Emily Peel also said customers should first contact their retail service provider if they were having issues connecting to the internet.
But Mr Butler's parents' provider denied that their Bendigo customers had regular outages and connectivity issues.
"Harbour ISP acknowledges that from time to time network interruptions occur that may impact customers internet performance, however these are intermittent," a spokesperson said.
"We take our customer experience very seriously and will continue to investigate any customer concerns to ensure customers in the area are receiving the appropriate levels of service."
In response to the concerns Mr Butler's raised, Opticomm told the ABC it has "over 45 service providers available nationally that offer a range of plans".
It said its technology was "future-ready".
"We design, supply, and install future-ready infrastructure that connects a premises to our network," the provider said.
"There are a few factors that may affect the internet performance for the end user.
"We proactively monitor our network performance to identify issues and will perform proactive maintenance as needed."