UT Austin Uses Hologram Technology in the Classroom Thanks to an Austin Startup
The
old saying is out of hardship and adversity comes innovation.
Just take a look at the University of Texas' McCombs School of Business and its use of a hologram application called Recourse to beam a professor into the classroom during the Coronavirus pandemic.
The application is the brainchild of Contextual Content Group, a new startup headed up by serial entrepreneur Jim Spencer. He sold his last venture, Newsy, an early mobile and streaming video online news service, for $35 million to E.W. Scripps Company in 2013. Before that, Spencer served as vice president at Ask Jeeves, general manager of news and information programming at AOL, and executive director of strategic partnerships at NBC.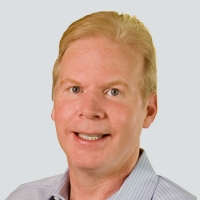 Spencer
moved to Austin a few years ago and he has been teaching a class on business journalism
at UT and working on his next startup.
"COVID
greatly accelerated remote working and distance learning and it pushed
everything forward," Spencer said.
Earlier
this year, Spencer formed Contextual Content Group, which now has four
employees. Its first project is Recourse, the holographic educational
application. They pivoted the company and got the project up and running in 90
days, Spencer said. The 3-D immersive video combines in-person and online
teaching.
"Probably
the most rewarding thing about this is that it is an inspiration to be solving
a real problem with a real customer," Spencer said.
UT
McCombs School of Business hired Contextual Content Group to make its
classrooms safe for both professors and students during the COVID-19 pandemic. UT
wanted to go beyond video and bring something really engaging and innovative to
students, Spencer said.
At the end of August, UT kicked off the fall semester with fewer students on campus because of the ongoing COVID-19 pandemic More than 75 percent of the seats in classes are offered online with only five percent offered fully in person, according to UT. The rest of the classes are offered through hybrid courses that mix online and in-person elements.
The
benefits of using Recourse in the classroom are that it keeps the professor
safe in an enhanced teaching setting, according to UT. It also greatly enhances
the student learning experience.
"We knew we could make the digital experience better," Joe Stephens, senior assistant dean, and director of working professional and executive MBA programs said in a news release.
Recourse is being produced at IC2 Institute at UT. The professor is in a studio with a green screen and his full-body image is captured by multiple cameras. Then the 3-D holographic image is beamed into a UT classroom for socially distanced students to watch in person and to students off-campus via Zoom.
A producer is in the studio to handle all aspects of the broadcast, Spencer said. The professor doesn't have to learn anything about technology. He needs to only focus on his lessons and the students, Spencer said.
"What
you want the professors to focus on their passion and what they're paid to do
is to teach," Spencer said. "It's what
they love to do and want they want to do."
The professor also has three 65-inch high-resolution monitors facing him projecting images of the students in the classroom and at home. He can interact with them in real-time and answer questions live – just like a classroom.
Recourse is currently being used in accounting professor Steve Limberg's Executive MBA class.
"This is an authentic
experience because I can see all the gestures and the nuances that students are
expressing, whether it be raising a hand or nodding, and as a result, it really
is very much like being right here in the classroom," Limberg said in a news
statement.
Recourse delivers high-bandwidth video with high-quality audio with little or no latency in the experience, Spencer said. It really enables the students to engage with the professor as if they were present in the same classroom, he said.
UT's McCombs School of Business
is using the technology to teach a fall 2020 executive MBA accounting class but
plans to roll it out to other classrooms in the future. The response from
students has been positive, according to UT.
In addition to Recourse, Contextual Content Group plans to roll out other applications, Spencer said. Its next step will be to build its next product using natural language processing and artificial intelligence to create an on-demand immersive video experience, Spencer said.