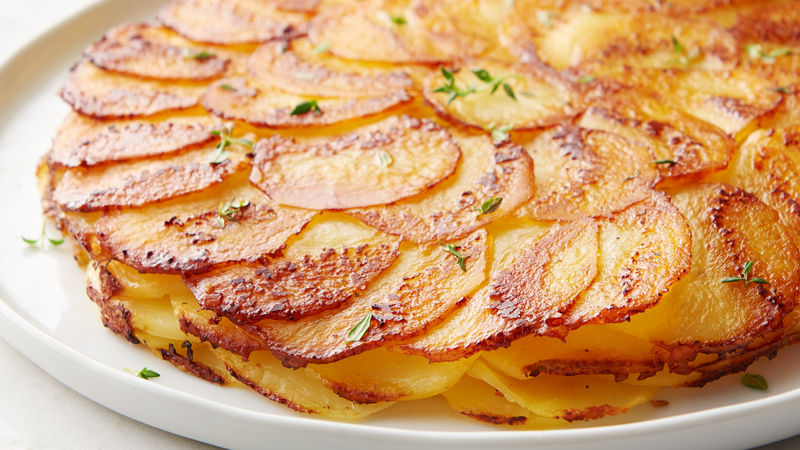 Potatoes Anna is an exemplary French dish of daintily cut potatoes cooked in a significant measure of clarified butter, layered to frame a cake flipped in a skillet on the oven at regular intervals until the outside is brilliant and crispy. I call this dish Cacio e Pepe Potatoes Anna, and we love it for a significant number of reasons. The cacio e Pepe part comes from becoming fascinated by the dish when we went to Rome a couple of quite a while back. The best cooking utilizes simple fixings to make significantly more than the number of its parts, and this pasta dish, whose flavor depends on sharp, pungent pecorino cheese and the shimmering fieriness of dark pepper and nothing else, is perhaps the best model I know. Be that as it may, I didn't put it on pasta; I put it on something of a poor man's pommes Anna. Here it is some tips for cooking light recipes.
This rendition is undeniably more distant however doesn't hold back on the most impressive aspect, which is that it resembles a crown of potatoes and tastes a smidgen like a potato chip meal, with profoundly tanned and fresh edges and a baked-just-so focus, mixed with spicy cheese and a warming kick of pepper. With a plate of mixed greens daintily dressed greens, it makes a lavish simple supper.
SERVINGS: 4 HEARTY OR 8 PETITELY
POTATOES
1/2 cup (65 grams) finely grated aged Pecorino Romano
1 tablespoon (10 grams) potato starch or cornstarch
1/2 teaspoon fine sea or table salt, or to taste
1/2 teaspoon finely ground black pepper, or a larger amount coarsely ground
3 tablespoons (45 grams) unsalted butter, melted, or olive oil
2 pounds (roughly 1 kg) Yukon Gold potatoes, peeled, cut into 1/8-inch-thick, ideally on a mandolin
SALAD
8 cups (5 2/3 ounces or 160 grams) loosely packed arugula
1 tablespoon (15 ml) olive oil
2 teaspoons (10 ml) white wine vinegar
Collect the potatoes: Heat your oven to 375°F. Join the cheese, potato starch or cornstarch, salt, and pepper in a bit of dish. Taste a squeeze; you believe it should have a solid spicy, peppery kick since it will be conveyed all around the galette.
Pour one tablespoon of butter or oil into the lower part of a 9-inch-breadth cast-iron or ovenproof skillet, and whirl it up the sides. Orchestrate the potatoes by covering concentric circles in a solitary layer at the lower part of the container. (This will utilize roughly a fourth of your cut potatoes.) Drizzle with one teaspoon of butter or oil, and sprinkle with two tablespoons of the cheese-pepper combination. You'll need to rehash this three times to go through your potatoes (contingent upon their size). Toward the end, you ought to have around one tablespoon of cheese-pepper blend left finished; hold this. Shower any excess liquefied butter over the top.
To bake: Lightly cover a piece of foil with a nonstick shower and cover the skillet firmly. Use potholders hands to press immovably on the foil to minimize the potatoes a piece. Remove and hold the foil and bake for 25 to 30 minutes more, until daintily brown everywhere. Press again with the foil, remove, then momentarily run under the oven for an even brilliant brown completion. Put in warmed oven for 35 minutes, so, all in all, the potatoes will be practically delicate.
While the galette bakes, throw the arugula with olive oil and vinegar to get done and serve, keeping the dressing extremely light.
Once the galette is out of the oven, let it rest in the skillet for a couple of moments before running a knife around to guarantee that it is free. Delicately tip the skillet over your sink to deplete any abundance of butter or oil. Upset it onto a plate or cutting board, then, at that point, flip it straight up. Cut the galette into wedges, then, at that point, top with the dressed greens and sprinkle with the saved cheese-pepper blend.
Do ahead: This galette can be made as long as three days ahead of time. Rewarm at 350 degrees for 15 minutes with foil on top.