Sponsored: Interactive technology helps teachers realize the full potential of the digital classroom
ViewSonic is helping advance digital teaching and improve e-learning outcomes with its easy-to-use digital education platform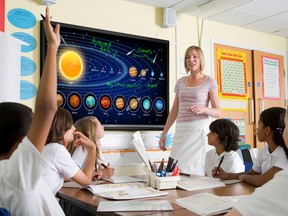 Article content
Cloud computing, digitization and the growing interconnectedness of devices were already a common feature of Canadian education prior to the pandemic. COVID-19 only accelerated that transition as history's most extensive remote learning experiment took hold. But even as students and teachers return to classrooms, the quest to realize the full potential of interactive learning tools in the new digital classroom continues.
Article content
"We're at the stage where most schools have the digital capability for delivering interactive e-learning programs that support active learning," says Blake Everhart, education training manager for ViewSonic, a leading provider of education technology. "As students and teachers return to the classroom, there's an important opportunity to unlock the full potential of digital teaching and e-learning."
In addition to supplying its ViewBoard® interactive flat panel displays, ViewSonic offers myViewBoard Classroom™, a platform-agnostic, cloud-based solution that enables real-time collaboration from any location through video, audio conferencing and digital whiteboarding. During the pandemic, that software was made free to schools, colleges and universities to help educators prepare for extended shutdowns and expanded e-learning programs — an offer that continues today. The myViewBoard platform is now used by five million educators across the globe.
"It's designed to be intuitive and easy to use, and to be similar to a traditional physical classroom," Everhart says. "There's no software to install and it offers built-in support for Google Classroom and cloud integration."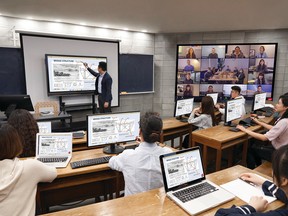 Research from the World Economic Forum's Future of Jobs Report shows that critical thinking, analysis, problem solving and active learning will be the top in-demand skills leading up to 2025.
Mirroring those skills, myViewBoard Classroom features a portal where students can easily share their work, discuss content individually and in groups, and engage with the teacher in a way that does not interrupt live instruction.
Article content
"This is how people work in today's hybrid work environments, so we're providing the next generation with digital skills that they will need," Everhart says.
Interactive teaching technology is also resetting education by providing personalized, inclusive learning tools that quickly adapt to different needs. These tools can accommodate multiple learning styles and provide an individualized approach to allow students to take a more active role and learn at their own speed, including students with disabilities and learning challenges.
These same technologies are providing teachers with the ability to see in real time how students are engaging with their content — to see what's resonating and what's not.
"In a digital learning environment, success is relative to the student," says Everhart. "With our technology, teachers can conduct informal, personalized assessments during instruction and determine how effective a particular lesson is, and quickly adapt as needed."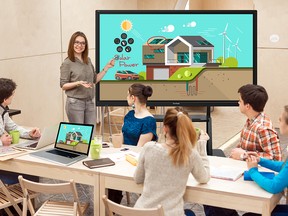 The system is providing demonstrable real-world benefits to Canadian schools.
Gatineau-based private high school Collège Nouvelles-Frontières, for example, completely reimagined its learning systems during the pandemic. Replacing projectors and other equipment, the school fully equipped each classroom with the ViewSonic® ViewBoard education ecosystem, including interactive flat panel displays and digital whiteboarding software.
Article content
"We realized that providing state-of-the-art tools to teachers would be beneficial in managing future waves of the pandemic and would ensure that we could always deliver quality teaching to our students whatever the situation," says Serge Lévesque, coordinator of computer and material resources at the school.
The school now showcases its digital learning capabilities as a recruitment tool.
But more can be done to unlock digital learning potential by providing teachers with the support and training they need.
"During the pandemic, teachers had to learn to use these systems alongside students," says Everhart. "But today, with the right training, they can individualize their teaching to better engage students and improve outcomes. They can use digital tools to support their own unique learning styles in the classroom."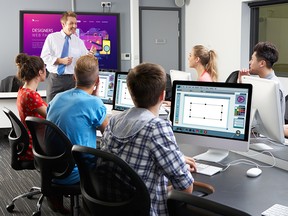 ViewSonic's professional development team provides teachers with on-demand, online support covering a range of digital learning topics, from using interactive software, to incorporating legacy lesson material and developing cloud-based curriculums.
Paul Demsky, ViewSonic's national education sales manager for Canada, believes that school boards looking to future-proof their learning systems should consider advancing digital education while the lessons of the pandemic remain top-of-mind.
"Teachers and schools across Canada adapted heroically to the pandemic by quickly implementing e-learning," he says. "And we can see there's an eagerness right now to fully embrace education's digital future."
Article content
As Everhart looks back on the pandemic, he disagrees with those who believe that a rapid shift to online lessons led to a lost opportunity for learning.
"We believe that important non-standardized learning happened during this period that provided unique skills to help students throughout their lives," he says. "This is the future of education and represents an opportunity to help students learn in the way they learn best."
For more information on ViewSonic's digital learning and education solutions, please visit ViewSonic.
This article was created by Content Works, Postmedia's commercial content studio, on behalf of ViewSonic.