U Kentucky Expands Classroom Tech for Multi-Modal Teaching and Learning — Campus Technology
Learning Spaces
U Kentucky Expands Classroom Tech for Multi-Modal Teaching and Learning
By Dian Schaffhauser
09/22/20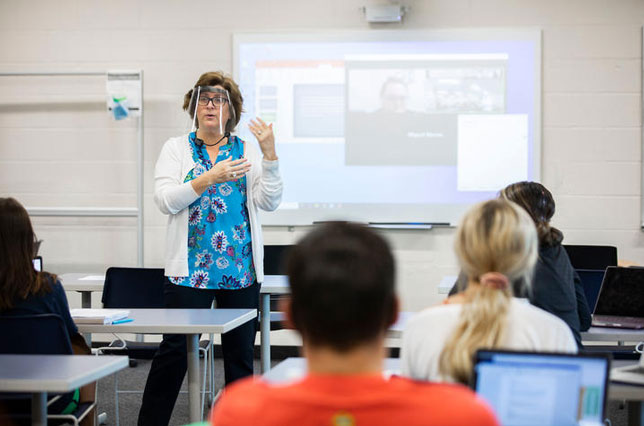 The University of Kentucky has upgraded the technology in many of its classrooms, including the one hosting this education course. University of Kentucky/Pete Comparoni
The University of Kentucky has expanded the use of technology in classrooms to accommodate whatever format is appropriate for the course content and faculty and student preference. As the home page for the institution stated, "Work Anywhere. Learn Anywhere. Teach Anywhere."
According to the university, currently, about two in five classes (42 percent) are totally online; a third (37 percent) are held in the traditional face-to-face format; one in five (19 percent) are hybrid with a blend of in-person and online instruction or alternating attendance; slightly more than 1 percent are off-campus in-person; and the remaining 1 percent are streamed live using compressed video.
To support these myriad instructional formats, the Classroom, AV Support and Student Technology Services team in the university's Information Technology Services (ITS) unit spent its summer installing new technology.
Of the 350-plus classrooms on campus, 90 percent received upgrades. The work included installation of two different types of cameras: panoramic cameras, for Zoom and Microsoft Teams classes, and Echo360 capture devices. Both types of cameras enable live-streaming and recording of class sessions. Whereas in April 2020, there were 164 Echo360 rooms and three Zoom rooms on campus, now there are 210 Echo360 rooms and 139 panoramic cameras for enhanced online learning.
"Due to the university's public health needs, having remote learning technology is very important because it prevents the need for the students to attend class every day," said ITS' Rex Stidham, in an article about the implementation. "It gives more flexibility and provides normalcy to students by giving students the option to have the same class schedule. If students didn't feel comfortable, we wanted to make sure they had the options to have the most successful semester."
To boost its technology help presence, ITS has also added a chat function to various university websites, provides in-person help by reservation and offers online consultations and media support via Zoom.
The school has also developed two playbooks, one for employees and another for supervisors, to help them do remote work.


Dian Schaffhauser is a senior contributing editor for 1105 Media's education publications THE Journal, Campus Technology and Spaces4Learning. She can be reached at [email protected] or on Twitter @schaffhauser.